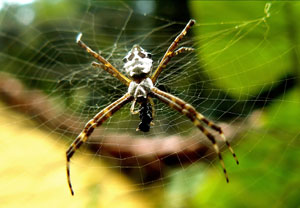 B.O.G. Pest Control Service is a locally owned and operated full service commercial, business and home residential pest prevention and management control service. B.O.G. Pest Control serves the Annapolis and Anne Arundel county Area as well as Prince Georges County, Queen Anne's County and Montgomery County, Maryland. We have the expertise and ability to rid your home or business of all pest concerns you may have, including termites, ants, wasps, bees, hornets, carpenter ants and other pests.
B.O.G. can exterminate pests in the following areas: Annapolis, Harwood, Edgewater, Arnold, Severn, Severna Park, Edgewater, Davidsonville, Pasadena, Crownsville, Millersville, Linthicum, Jessup, Lothian, Fort Meade, Upper Marlboro, Brandywine, Fort Washington, Greenbelt, Beltsville, Clinton, College Park, Laurel, Hyattsville, Landover, Bowie, Glenn Dale, Mitchellville, Cheverly, Queen Anne, Queenstown, Stevensville, Wye River, Kent Island, Chesapeake Bay, Chester, Eastern Bay, Eastern Shore, Crofton, Potomac, Rockville, Bethesda, Germantown or Gaithersburg, Maryland.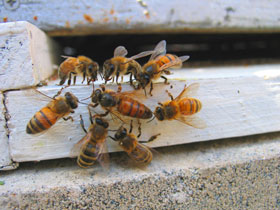 Residential Home Pest Control
Our continuing year-around pest management programs are designed to eliminate pests and help maintain a pest-free residential home. Our program helps to eliminate everything from crawling insects, stinging insect nests crickets, millipedes, centipedes, silverfish, fleas, and even termites - it's like having insurance against pests for your home!
The Initial Service
One of our state licensed pest inspectors will perform a thorough inspection of your home's structure, noting visible pest activity and encouraging conditions for pests. A copy of the inspection report & service specifications will be provided to you. B.O.G.'s program begins with an initial intensive service, to consist of a perimeter treatment to the exterior of the structure.
A GREENER ALTERNATIVE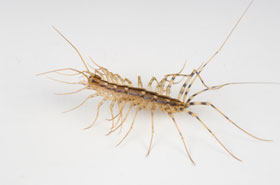 For a greener, reduced-impact approach to pest control, we are now using a variety of products that are not even labeled as pesticides. These products contain a patented blend of botanical oils that effectively target a wide range of pests both inside and out... and not people or pets. In most cases, these natural, eco-friendly treatment methods have proven to be just as effective as traditional pesticides in the fight against pests.
We treat the outside walls of your home with an invisible and odorless Pest Control barrier that prevents bugs from entering cracks and crevices. When the cooler fall weather starts, spiders start looking for a way to stay warm all winter in your home... unless the Pest Control is applied.
What Gets Treated
The Pest Control treatment covers a wide variety of insect entry points and habitats around your home, including a strip all the way around your house, up the side of the foundation of your home, in mulched beds, window wells, vent openings, door thresholds, and (where accessible), around and under decks.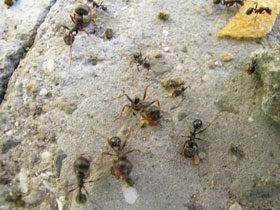 The Pest Control Program helps control over 25 species of insect pests, including:
Ants

Bees

Wasps

Ticks

Crickets

Spiders
This program will not control wood-destroying insects or animals.
Four Seasonal Treatments
Spring (April-May): The invisible and odorless Pest Control barrier is applied to the foundation of your home and areas where crawling insects are getting active, preventing the pests from entering cracks or crevices in the foundation.

Early Summer (June-July): The Pest Control is again applied to the foundation of your home and the immediate area at the time when more insects are present, keeping bugs from finding a way inside your home no matter what the weather is doing.

Late Summer (August-September): In the hot and humid summer when outdoor insects are the most active, the Pest Control is again applied to the foundation of your home and in any flower and shrub beds around the house standing between the bugs and your home.

Fall (September-October): The Pest Control is again applied to the foundation of your home and in any flower and shrub beds around the house. Spiders and many other insects can sense coming cold winter weather so they begin to look for warm, safe places to escape it. With the Bug Barrier firmly in place around your home, the insects will have to find someplace else to spend their winter.
For a Free Inspection, click here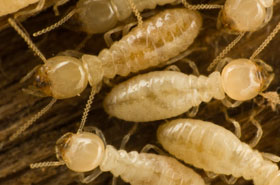 Termite Pest Control

Termites cause over $5 billion in damage to homes in the United States each year. Damage usually not covered by most homeowners' insurance policies. Protect your most valuable investment from destructive termites with a hands-on approach to termite control.

With the latest and most advanced termite solutions available, we are dedicated to providing you with the most comprehensive termite protection and warranty in Maryland.

Other Services:
Household Pest Control

Ant & Spider Control

Carpenter Ant Control

Stinging Insect Control for Bees, Wasps, and Hornets

Mosquito Control

Business, Industrial & Commercial Pest Control
Our business corporate pest management inspectors provide your business with the safest, most advanced pest elimination techniques in the industry, along with superior customer service. We will design a pest management plan with your business in mind, and guarantee results.
B.O.G. Advantage
Since we have scheduled applications and we are treating outside of your home, you don't need to be home!!
THE B.O.G. PROMISE -- 100% SATISFACTION GUARANTEED
Your pest control services are fully warranted in between visits. If you ever become aware of new pest activity in between regularly scheduled service visits, we will return and retreat at no additional charge until we have controlled the problem to your satisfaction. All follow-up calls are handled within 1-2 business days.
So when you need to exterminate the pests in your home or office in Anne Arundel, Prince Georges, Queen Anne's or Montgomery County, Maryland, give the experts at B.O.G. Pest Control a call or schedule an appointment online!
Phone: 410-346-5152
For more information, Click Here.
Pest Control Service Areas
Pest Control in Annapolis, Pest Control in Harwood, Pest Control in Edgewater, Pest Control in Arnold, Pest Control in Severn, Pest Control in Severna Park, Pest Control in Edgewater, Pest Control in Davidsonville, Pest Control in Pasadena, Pest Control in Crownsville, Pest Control in Millersville